At Dulwich College (Singapore) we are committed to running a curriculum-focused approach to community service in addition to the service opportunities provided through our CCA programme. This means not only supporting projects within the College, locally or internationally, but also promoting service through class initiatives, PSHE lessons and enrichment days. Independent student action to launch new projects is also greatly encouraged. This diverse approach gives every student from DUCKS right through to the IB Diploma Programme, the opportunity to be involved and to make a difference. It is the aim of the College that every student participates in at least one service project each academic year.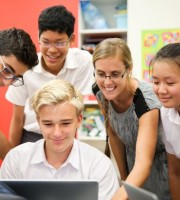 We want all our students to go on to make a meaningful difference to the lives of others. We hope that their experience of Community Service at Dulwich College (Singapore) gives them the tools and outlook to achieve this.
- Polly Clayton, Community Service Coordinator
This approach also instills the importance of building sustainable and meaningful relationships with people and organisations, which allows them to demonstrate a significant impact on the community they serve. Their active involvement helps to foster the empathy, teamwork, confidence, independence and creativity that are key components of IB success in Years 12 and 13. Their increased international-mindedness and awareness of those around them, and the issues they face, puts our students on the path to become active global citizens.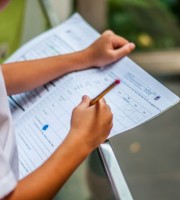 From taking part in my Community CCA I have learned different ways to communicate with others, such as holding up my pencil to show I want others to colour with me. It has made me more confident.
- Hasim, Year 3 student
There are a wide variety of projects being run at the College, examples of which include: visits to a home for the elderly, delivery of food parcels to HDBs in Singapore, running of a wheelchair restoration service and student mentoring within the College. Internationally, Dulwich College (Singapore) also continues to build a long term and multi-level relationship with United World Schools (UWS) and fund a partner school in the Steng Trung province in a very remote part of rural Cambodia. Last year we held our first student trip to the school and you can learn more about in the video below.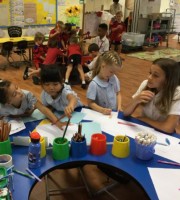 I loved helping out with Reception children because it was nice to help the younger students draw and solve puzzles. At first I was shy but then I became more and more confident.
- Jasmine, Year 7 student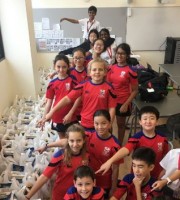 I enjoy participating in the Community Action Group because helping others (whether in school, locally or internationally) is so important to me since it means we are taking small steps to make the world a better place for everyone.
- Henry, Year 10 student