Artist Ian Murphy Holds Workshops With Students at Dulwich College (Singapore)
Graphite smudges, ink spills, paint stains and plenty of hard work filled the art department last month as artist Ian Murphy joined us at the College to hold workshops with students in Years 5, 9 and 10. Ian Murphy is a UK based fine artist of 30 years, known for his passion for journeys, drawing and his use of expressive surface texture.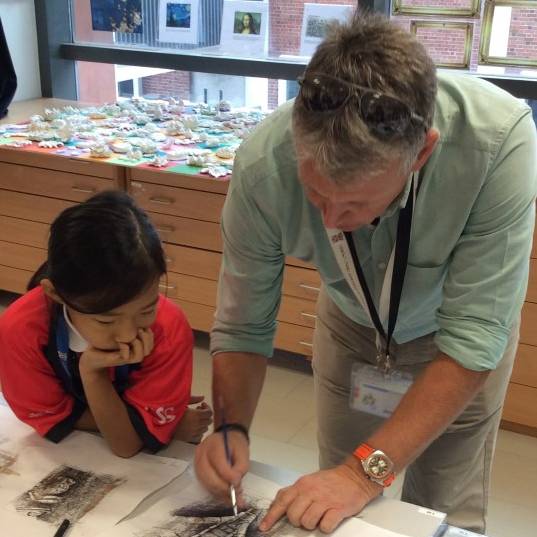 To start the workshops, Ian gave students the opportunity to pore over his sketchbooks, paintings and drawings before delivering workshops introducing students to a range of drawing techniques and processes leading to large-scale experimental work. Students then started learning how to build and control tone using fine-liner pens and were challenged to complete their first drawing in 30 minutes – some found this easier than others! All students were involved in experiencing a wide range of Ian's processes, techniques and methods, developing some stunning results along the way. Students involved in the workshops will continue to develop their pieces in their art lessons as well as sharing the skills they have learnt with their peers which is a wonderful opportunity for students to build their confidence and embed learning.
For all students, this was a completely new experience and everyone rose to the challenge beautifully, pushing the shadows and lifting the highlights to create some powerful and very sophisticated drawings. Ian kept the pace moving with plenty of breaks and pauses to refocus attention – who knew that drawing could be such exhausting work? Well done to all those involved!