This year, Dulwich College (Singapore) welcomed its first IB cohort to the College and with this, a stronger focus than ever on our university counselling provision. Our Senior School academic team includes university counsellors and student support specialists who will be there to assist our students through their university application journeys. Since the beginning of the academic year alone, the College has hosted a university fair with over 60 universities in attendance, as well as over 20 university talks aimed at specific year groups and about specific universities.
Last month, the College was proud to welcome Dr. Rowan Williams, Master of Magdalene College, University of Cambridge and his colleagues Dr. Stuart Martin, Director of Studies in Mathematics, and Corinne Lloyd, Director of Development.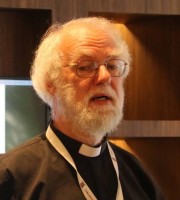 "It really matters to us that we are a supportive and warm community at Magdalene, because we believe that this delivers the best results at every level." 
- Dr Rowan Williams, Master of Magdalene College
Dr. Williams spent the morning with students and he spoke to them about the history of Magdalene College. Magdalene College has its origins in the year 1428, and the campus is made up of an eclectic mix of buildings with a fascinating architectural history. It is fitting that, in the year the College is celebrating "Our Heritage, Our Home", our students are being given opportunities like this to learn more about the heritage of such important institutions.
Parents who were keen to understand more about the application process and scholarships at the University of Cambridge were invited to listen to a talk from Dr. Stuart Martin, who is responsible for interviewing student applicants in Singapore.
We look forward to building upon the links between Dulwich College (Singapore) and the University of Cambridge as well as other leading universities across the world. Throughout the academic year there will be a range of university talks held both by specific universities and by our dedicated university counselling team. More information about these events can be found on MyCollege.