Welcome to DUCKS
Sitting in a beautiful building, DUCKS is a hive of purposeful activity. Since opening in 2014 we have established ourselves as a centre of Early Years learning where children are encouraged to reach their potential.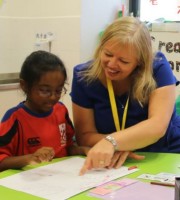 We aim to create a nurturing environment in which children feel safe and secure surrounded by staff who know them as individuals. As Alfie Kohn said, 'If children feel safe, they can take risks, ask questions, make mistakes, learn to try and grow'
- Joanne Woodward, Head of DUCKS
DUCKS caters to children aged from two to seven in light, airy, well-resourced classrooms that allow the children to develop a passion for learning and exploring the world around them.
On the ground floor are our Foundation Stage children, aged from two to five. These children learn through purposeful play combined with a focus on learning to read and beginning to write in both English and Mandarin. The children follow the Early Years Foundation Stage Framework.
Our Key Stage One children (aged five to seven) are based on the upper two floors and follow an enhanced version of the English National Curriculum.
DUCKS is a dual language environment with each class taught by at least one native English speaking teacher and one native Mandarin speaking assistant teacher. Our aim is for our children to be confident and competent in both languages.
All DUCKS children have weekly swimming lessons using our three pools, and from the age of five the children have specialist PE and music lessons.
Our excellently resourced library allows all of the DUCKS children to submerge themselves in the world of print and develop a passion for reading.
Chat to our Parents
We have a group of amazing parents who are available to offer you advice and answer questions covering a diverse range of topics.
Read More
Pastoral
The atmosphere in DUCKS is special, with its emphasis on pastoral care establishing the warm and welcoming environment within the school.
When children and their families join DUCKS they become part of a wider community in which every member is valued, and positive relationships between children, staff and parents are fostered.
The pastoral ethos is underpinned by a child friendly version of the College Guiding Statements. Regular assemblies at each year level support these and focus on different and relevant aspects of PSHCE (Personal, Social and Health Citizenship Education). Class teachers also respond to current issues that are pertinent to their groups.
Private Tour
Book a tour to learn about the Dulwich Difference and about our unique curriculum.
Read More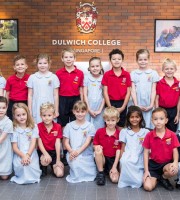 I wanted to be a student counsellor because I wanted to help other people when they were feeling left out or hurt in the playground. It makes me happy to help other children.
- Isabelle, Year 2 student
From Reception, all children become involved with the House system. The sense of community this builds fosters a team spirit and sense of pride, which is further developed as children continue through the College.
As the children grow in DUCKS they are introduced to leadership positions. House Captains and the DUCKS Student Council are elected from the student body and are involved in the day to day running of the school and major events.
Virtual Open House
Our virtual open house sessions are a convenient way for you to learn more about Dulwich College (Singapore)
Read More
Student Council is all about helping people and the school. The Eco Warrior jobs allow us to help the world, too.
- Amaya, Year 2 student
Through a variety of enrichment activities, children develop an awareness of the world beyond the school and a deeper understanding of their community. They begin to develop an understanding of the ways they can help improve their immediate environment and the lives of those around them. Developing a sense of others and an ethos of helping those less fortunate begins early and is encouraged through activities that are meaningful to the children.