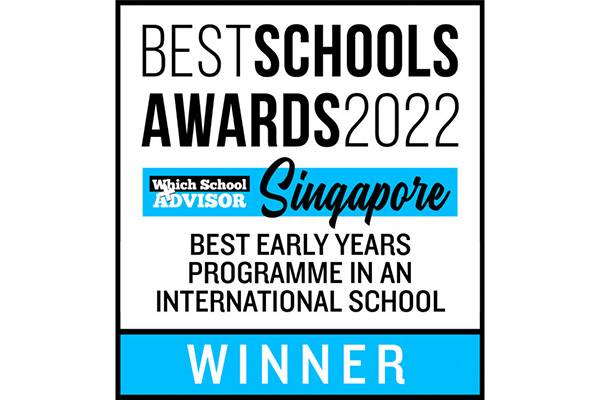 Dulwich College Kindergarten School (DUCKS) caters to students from ages 2 to 7, providing a happy and purposeful introduction to learning.
In DUCKS our approach to learning is student-centred and cross-curricular. Our inquiry-based learning model nurtures learning dispositions and engages students in topics in which they express interest. Children learn how to communicate their ideas and listen to others, to solve problems and to persevere with relevant tasks.
Just as each child has different interests, each child has an individual learning style. We understand that students make progress in different areas at different rates and we work closely with parents to support their child's unique learning journey.
Our DUCKS environment is specially designed to meet the needs of our students. We encourage outdoor learning to develop their curiosity and look to nurture confident young learners who take pride in their achievements.
DUCKS is a dual language environment with each class taught by at least one native English speaking teacher and one native Mandarin speaking teacher. Our aim is for our children to be confident and competent in both languages.
Curriculum

Foundation Stage (Toddler / Nursery / Reception) - Ages 2-5
The curriculum in Foundation Stage is based on the Early Years Foundation Stage curriculum (EYFS) which provides a framework for the education of children from birth to five years old.
The Prime Areas covered are:
Personal, Social and Emotional Development
Communication and Language
Physical Development
The Specific Areas covered are:
Literacy
Mathematics
Understanding the World
Expressive Arts and Design
Under these seven areas of learning, staff guide and facilitate a range of exciting and stimulating curricular activities that enable each child to achieve the goals and objectives appropriate to his or her individual stage of development. All our Foundation Stage students benefit from daily Mandarin instruction along with timetabled Forest School, Swimming, PE, Library and Music lessons.
Key Stage 1 (Years 1 and 2) - Ages 5-7
The curriculum in Years 1 and 2 is based on the National Curriculum for England (NCE) and aims to ensure that young people become successful learners, confident individuals, and responsible citizens. The structure of the curriculum has been designed to provide breadth and balance whilst maintaining focus on English and maths. There is a strong emphasis on children's personal development, including the development of learning and thinking skills and personal, social and emotional skills.
All areas of learning are delivered to the children through the teaching of concepts, with the exception of maths and elements of English, which may be taught as discrete subjects. All our Key Stage 1 students benefit from daily Mandarin instruction (banded according to ability) along with timetabled Forest School, Swimming, PE and Music lessons.
Read, Write Inc. is our phonics programme.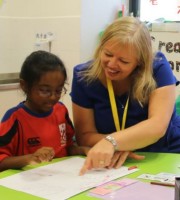 We aim to create a nurturing environment in which children feel safe and secure surrounded by staff who know them as individuals. As Alfie Kohn said, 'If children feel safe, they can take risks, ask questions, make mistakes, learn to try and grow'
- Joanne Woodward, Head of DUCKS
Mandarin Dual Language Approach
At Dulwich, we believe that learning another language is not only highly stimulating for mind development at an early age but is also a wonderful way to develop a deeper awareness of and appreciation for other cultures. Acquiring proficiency in more than one language broadens children's horizons, promoting endless possibilities for social and emotional growth, alongside academic development.
We cater to students at all levels from complete beginners to native speakers, tailoring classes accordingly.
Visit our Mandarin page here to learn more.
High Potential Learners
In DUCKS, the focus is on educating the whole child and progresses from Early Years Foundation Stage (EYFS) in Pre-Nursery (Toddler), Nursery and Reception to an enhanced version of the English National Curriculum (ENC) in Years 1 and 2.
The aim is to strike a balance between student self-guided exploration and explicit teaching of core competencies, particularly in reading, writing, phonics, maths and Mandarin, ensuring that children are able to meet developmental milestones and achieve their academic potential.
Above all, the focus is on developing confident and happy children with a zest for life and a love of learning.
To learn more about our High Potential Learning programme in DUCKS click here.

Forest School
Dulwich College (Singapore) is the first international school in Singapore to introduce ​Forest School, accredited by the UK's Forest School Learning Initiative (FSLI), into the DUCKS early years programme.
Visit our Forest School page here to learn more.
Pastoral
The atmosphere in DUCKS is special, with its emphasis on pastoral care establishing the warm and welcoming environment within the school.
When children and their families join DUCKS they become part of a wider community in which every member is valued, and positive relationships between children, staff and parents are fostered.
The pastoral ethos is underpinned by a child friendly version of the College Guiding Statements. Regular assemblies at each year level support these and focus on different and relevant aspects of PSHCE (Personal, Social and Health Citizenship Education). Class teachers also respond to current issues that are pertinent to their groups.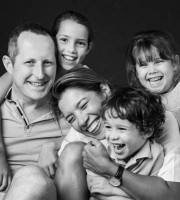 Dulwich has really delivered on what it promised, a family culture with a focus on kindness and nurturing global citizens who will shape our world. The school is proudly academic but there is also a strong focus on sport and the arts. Student achievements, big or small are recognised and celebrated. We have been blessed with excellent teachers who genuinely care about the development and well-being of their students. In the words of our 5-year-old, "I love my Dulwich College (Singapore)!
- Hayley Naidoo, Parent (Years 1, 4 and 7)
Enrichment
From Reception, all children become involved with the House system. The sense of community this builds fosters a team spirit and sense of pride, which is further developed as children continue through the College.
As the children grow in DUCKS they are introduced to leadership positions. House Captains and the DUCKS Student Council are elected from the student body and are involved in the day to day running of the school and major events.
Through a variety of enrichment activities, children develop an awareness of the world beyond the school and a deeper understanding of their community. They begin to develop an understanding of the ways they can help improve their immediate environment and the lives of those around them. Developing a sense of others and an ethos of helping those less fortunate begins early and is encouraged through activities that are meaningful to the children.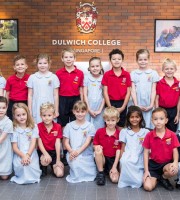 I wanted to be a student counsellor because I wanted to help other people when they were feeling left out or hurt in the playground. It makes me happy to help other children.
- Isabelle, Year 2 student
Specialist Teachers
Our DUCKS specialist teacher programme ensures that every child receives high level, specialised teaching in Music, PE and Swimming. This allows each child to follow their own personalised pathway within a range of curriculum areas. We believe that all children should have the opportunity to meet their potential and perform highly in areas they have particular talents and skills. Our DUCKS curriculum supports this for all children. Through outstanding teaching, children can develop the self belief, confidence and skills to push themselves into their challenge zone and do things they never thought possible. This is where children really grow as learners and where the deepest learning happens.

Library
Our excellently resourced library allows all of the DUCKS children to submerge themselves in the world of print and develop a passion for reading. The DUCKS library is a magical space that houses over 14,000 books and is a beloved place for students and staff. The book collection grows significantly every year with high quality fiction and non-fiction books in a variety of languages to reflect our diverse student population. Each child visits the library once a week with their class. The library lesson usually involves the teacher librarian sharing a story and then borrowing time. The library is also involved in many exciting events which help to bring stories and literature to life. These events include Book Week, International Literacy Day and The Poetry by Heart competition.
Visit our Library page here to learn more.

Student Leadership
In DUCKS, it is the student councillors, House captains, eco warriors and class 'techsperts' who lead, support and organise activities and events throughout the year. Additionally, we encourage all students to take on daily responsibilities, such as being a playground buddy. This helps to provide a positive and purposeful school and classroom environment.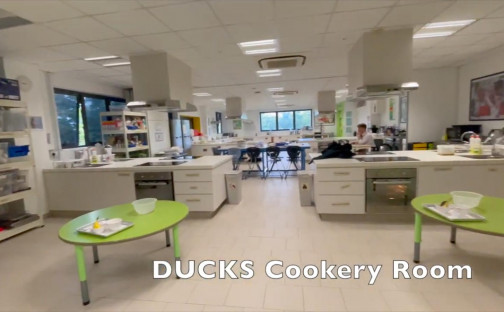 DUCKS Campus Overview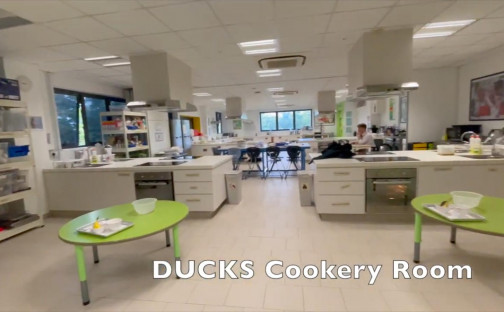 DUCKS Campus Overview
Overview of DUCKS Campus at Dulwich College (Singapore)
A Day in the Life Of DUCKS Video Series