Alleynian Review: The Importance of Having Spaces for Non-Judgement in Schools

Our Compassionate Systems Framework toolkit at Dulwich College (Singapore) is based on the principles of mindfulness. A major tenet of the practice of mindfulness is non-judgement.
Dulwich College (Singapore) (DCSG) is a global leader in this field, the gold winner of the Student Wellbeing Award in the Singapore Education Awards 2021 and moreover the first school in Singapore to have its own "Closlieu" studio for multi-age, non-judgemental self-expression through the practice of what I call "No Comment" Painting-Play.
I am a certified practitioner of Le Jeu De Peindre and was trained by the originator, the French pedagogue Arno Stern. I established the first Closlieu in Singapore in July 2020 and the second Closlieu in Singapore (the first in a school) was launched at DCSG as a CCA: "No Comment" Painting-Play in November 2020. I have been facilitating as many as six sessions per week for mixed groups of students (aged 7-18) and staff since then. When COVID restrictions hampered play, we moved online as "No Comment" Expressive Art-Play e-CCA. Both the CCA and e-CCA remain loyal to Arno Stern's original philosophy, with slight tweaks to fit the prevailing context.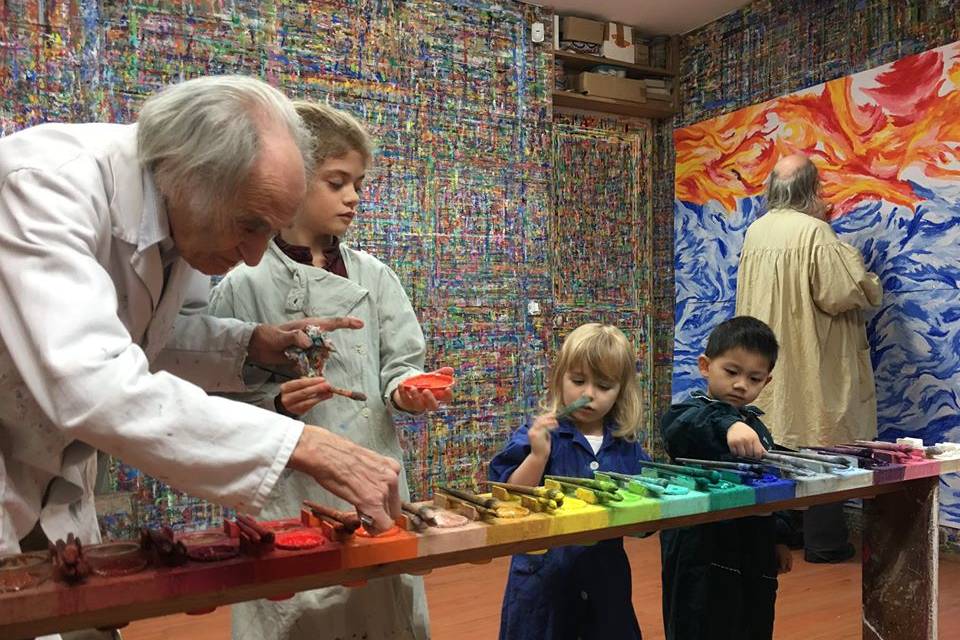 Fig. 1. 97-year-old Arno Stern facilitating a session of Le Jeu De Peindre in his Paris Closlieu. The criss-cross of colours on the walls is testimony to 70 years of Painting-Play. (Photo credit: Arno Stern)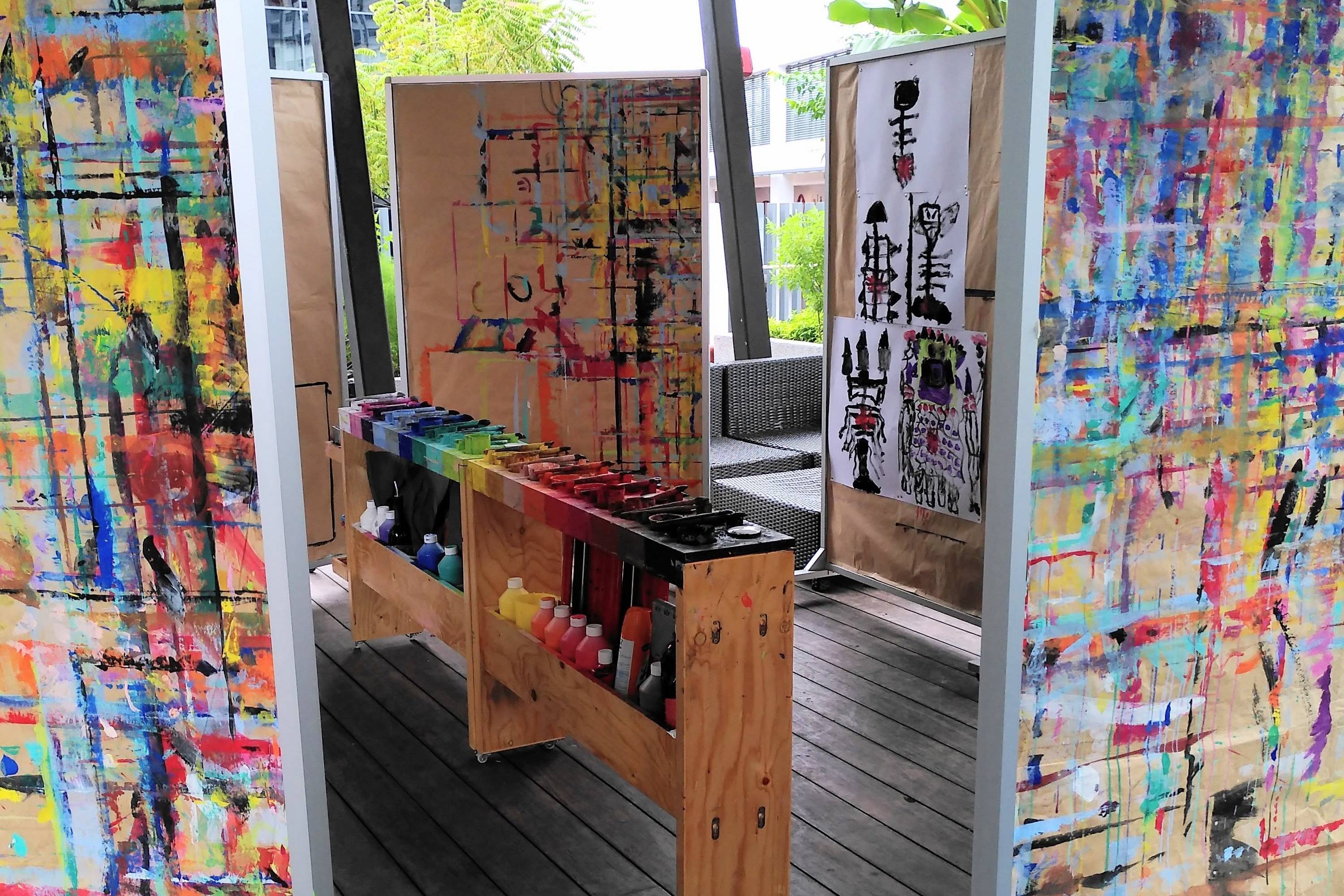 Fig. 2. The mobile Closlieu in the roof garden of Dulwich College (Singapore) (Photo credit: Lucy Shaw)
It was the promise of non-judgement that inspired me to train with Arno Stern. Non-judgement also seems to be a motivating factor for my students. Unfortunately, both the practice of painting-play and non-judgement in learning contexts remain relatively unexamined academically.
Non-judgement is most commonly discussed in articles related to modern attitudes in healthcare, especially nursing (see numerous volumes of the journal "Nursing Standard"). However, therapeutic spaces can be easily likened to learning environments, given the cognitive and/or socio-emotional growth or healing one hopes will take place. Two stand-out articles in this vein are Duberg, Möller and Sunvisson, (2016) and Lander (2020). There are also many overlaps with mindfulness in education, such as Hanh and Weare, (2017) and Burmansah, (2020). In Kraines (2020), non-judgement of internal experiences as it relates to mindfulness is defined as "acknowledging our thoughts, feelings, and sensations, as they are, without applying valence (e.g., good, bad, right or wrong)." They noted that previous authors had encompassed notions of "acceptance, non-reactivity, kindness and curiosity" in their definitions (Bishop, Shapiro et al, 2004, Baer et al, 2006, Segal et al., 2002 in Kraines, 2020).
Painting-play embodies the concept of non-judgement in its entirety. There is no judgement of the paintings created in the Closlieu studio and no model, or any sort of aspirational ideal to be emulated. There is no instruction, no theme or even starting point given. Each person acts upon their own impulses, without judgement and the product of these impulses is not subject to judgement by the facilitator or other participants.
To the shock of many painting-players (and paying parents) one of the few rules of this approach is that the paintings do not leave the Closlieu. Puzzled painting-players new to the approach often ask me "But why can't we take them home?" and "Why can't we comment?"
This is precisely in order to safeguard the non-judgemental bubble surrounding the all-important and fundamental process. When I experimented in the early days of setting up "No Comment" Painting-Play in Singapore, I mistakenly allowed a few insistent people to collect their paintings several months after creating them. I hoped that after this time, their feelings might be more detached and therefore less vulnerable. I regretted this concession, because I quickly discovered that long-term players who knew that they would be able to show their paintings to others, even at a much later date, immediately shifted their play from an internal dialogue of authentic self-expression back to the conventional art-making dialogue with and for an audience. I learnt my lesson and now strictly adhere to this rule. Neither do I grant access to the photos I take of each painting for my records as a researcher myself. (However, the paintings and photos can be revisited, added to infinitely or simply viewed at any time during a session or viewed alone upon appointment, even by a family member, physically or virtually. That is part of my role and responsibility as a "servant" to my painting-players.)
From a personal point of view, I am sad to note that as an artist and former art teacher, I have encountered numerous instances of older children and adults who openly confess shame at their supposed lack of artistic ability or creativity. They invariably recount experiences of negative judgement or misunderstanding from teachers, parents or peers, which regrettably cut short their enjoyment of creating (Shaw, 2020a).
As educators and parents in the 2000s, we have learned to teach and discipline by positive reinforcement and praise. However, children and older people know immediately when praise is just "being nice" or is a blanket statement to everyone and therefore meaningless.
If a teacher or school puts one student on a pedestal, how do the other students feel when they are not noticed or singled out for praise?
In addition, in my previous roles as a school-based art teacher, I personally encountered great discomfort on a variety of levels when expected to judge the merit of children's art, but "Assessment in Visual Art" is a whole other essay...
The dearth of literature on the subject and my own curiosity led me to conduct my own academic research on participants' understanding of the concept of non-judgement in painting-play. The full article, complete with quotes from my interviews with participants of all ages, can be found online. (Shaw, 2020b) To summarise, my findings indicated that:
Non-judgement can increase self-confidence, self-knowledge and self-expression.
Non-judgement can engender feelings of freedom, relaxation and wellbeing.
Non-judgement can be challenging.
Understanding of non-judgement can be applied to life outside the Closlieu and could greatly enhance embodiment of the terms "global citizenship" and "worldwise". In addition, the multi-age aspect of Le Jeu De Peindre allows for diversity, inclusion and community building, which in turn deepens understanding of these terms.
Simply understanding that non-judgement is an available mindset is a revelation to some. A participant who fully understands the concept of non-judgement may also experience and appreciate the momentary liberation it provides from social pressures and expectations and the lasting effect that awareness of and access to a sanctuary such as the Closlieu can have on one's psyche.
In the context of compassionate systems and mindfulness, which are philosophical allies of painting-play, the key to nurturing loving kindness and interconnectedness is "understanding" (Hanh and the Plum Village Community, 2011). Along with many others in the field, I believe that learning is an ongoing, incremental, never-ending process, just as understanding is (Dweck, 2006 and Perkins, 1998). Therefore, understanding non-judgement and benefiting from its cognitive effects requires regular, long-term practice, similar to shooting hoops, playing scales or meditating.
Nurturing a stance of non-judgement is challenging, especially in conventional education systems, where benchmarks, assessment, constructive criticism, grades and self-analytical reflections are an intrinsic part of day-to-day life.
So how can we mitigate this? In my opinion, alongside and even within compassionate, yet traditional learning environments, we also need "safe spaces" (metaphorical and/or literal), where non-judgement is key, and every member of the community is allowed to flourish in their glorious individuality within agreed limitations and structure.
Does this sound "out there" or "hippy"? Not in my opinion. Other spaces for overt non-judgement in schools can and do include our vast and welcoming libraries; an array of student-led interest groups and societies; extra-curricular visual art open studios; drama and dance studios; music practice rooms and meditation spaces. Amazing teachers also create spaces of non-judgement in their classrooms when they encourage a growth mindset and celebrate and reward imperfection as part of the messy process of learning. Math anxiety simply melts away when a great teacher celebrates mistakes and values the working out rather than the result (Zakaria et al. (2012), Maloney and Beilock (2012). Teachers who set open-ended tasks and praise or grade for individual effort rather than perfection or even completion are on the right tracks too (Dweck, 2008; Lam et al, 2008).
As a school, let's continue to explore the concept of non-judgement with bold curiosity and develop our understanding of its potential to distinguish us as a truly exceptional community of resilient life-long learners and leaders for a wiser world.
References:
Burmansah, Burmansah, et al. "Mindful Leadership: The Ability of the Leader to Develop Compassion and Attention without Judgment-A Case Study of the Leader of Buddhist Higher Education Institute." European Journal of Educational Research 9.1 (2020): 51-65.
Duberg, Anna, Margareta Möller, and Helena Sunvisson. ""I feel free": Experiences of a dance intervention for adolescent girls with internalizing problems." International journal of qualitative studies on health and well-being 11.1 (2016): 31946.
Dweck, Carol S. "Mindsets: How praise is harming youth and what can be done about it." School Library Media Activities Monthly 24.5 (2008): 55.
Dweck, Carol S. Mindset: The new psychology of success. Random House Digital, Inc., (2008).
Hanh, Thich Nhat. Planting seeds: Practicing mindfulness with children. Parallax press, (2011).
Hanh, Thich Nhat, and Katherine Weare. Happy teachers change the world: A guide for cultivating mindfulness in education. Parallax Press, 2017.
Kraines, Morganne A., et al. "An adapted Delphi approach: The use of an expert panel to operationally define non-judgment of internal experiences as it relates to mindfulness." Complementary therapies in medicine 51 (2020): 102444.
Lam, Shui-fong, Pui-shan Yim, and Yee-lam Ng. "Is effort praise motivational? The role of beliefs in the effort–ability relationship." Contemporary Educational Psychology 33.4 (2008): 694-710.
Lander, Kenneth. "A reflection on arts-based mindfulness group work and social change for LGBTQ youth." Social Work with Groups 43.1-2 (2020): 86-91.
Maloney, Erin A., and Sian L. Beilock. "Math anxiety: Who has it, why it develops, and how to guard against it." Trends in cognitive sciences 16.8 (2012): 404-406.
Perkins, David. "What is understanding?" Teaching for understanding: Linking research with practice (1998): 39-57.
Shaw, Lucy. "Le Jeu de Peindre: the untapped potential of a pedagogical approach which bridges established theories of learning and unlearning." (2020a) Available at: https://www.academia.edu/60512024/Le_Jeu_de_Peindre_the_untapped_potential_of_a_pedagogical_approach_which_bridges_established_theories_of_learning_and_unlearning (Accessed 31st October 2020)
Shaw, Lucy. "Grasp Of The "No Comment" Concept In Le Jeu De Peindre Closlieu: Exploring participants' understandings of non-judgement in Painting-Play through a dialogic approach." (2020b) Available at: https://www.academia.edu/60508975/Grasp_Of_The_No_Comment_Concept_In_Le_Jeu_De_Peindre_Closlieu_Exploring_participants_understandings_of_non_judgement_in_Painting_Play_through_a_dialogic_approach (Accessed 31st October 2020)
Zakaria, Effandi, et al. "Mathematics anxiety and achievement among secondary school students." American Journal of Applied Sciences 9.11 (2012): 1828.