Five Minutes of Fame with Dominic Massarella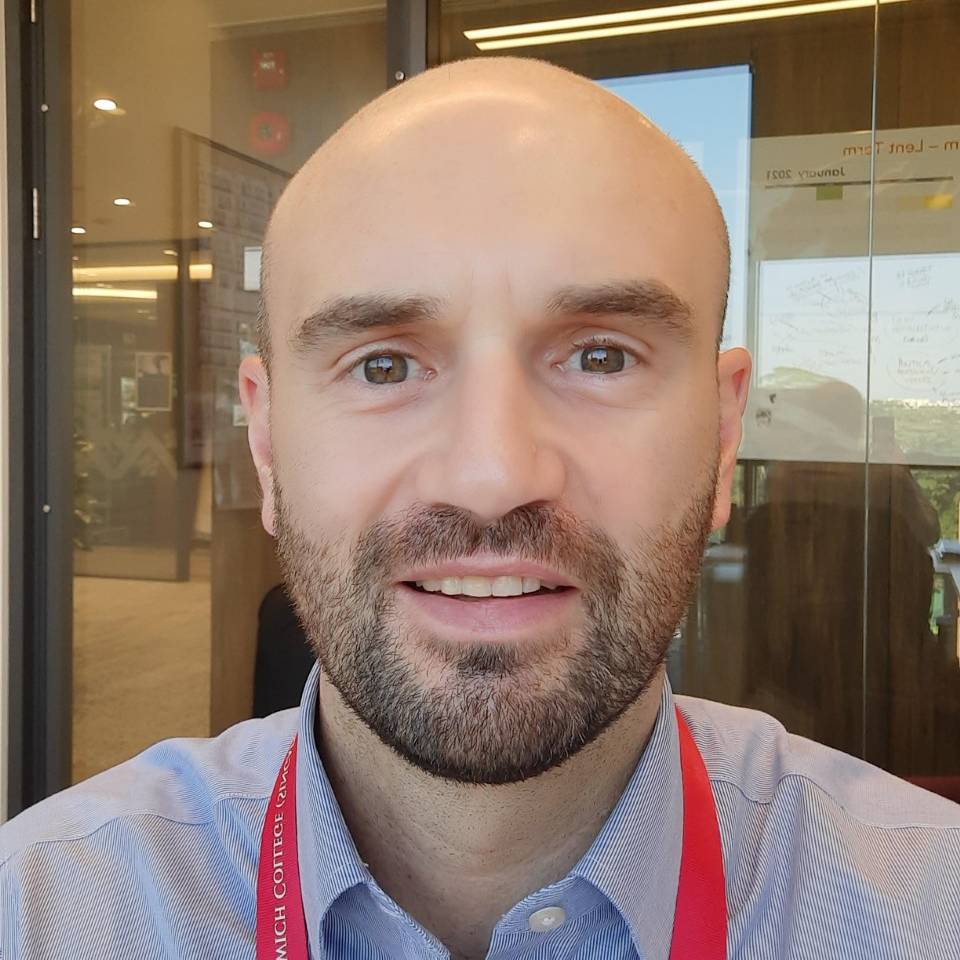 Deputy Head of Senior School, Dominic Massarella
1. Where else in the world have you lived?
I was born and spent my younger years in the North of England. As a young teacher, in the late 90s, I travelled to Kenya, where I lived and taught for three years. After a period of time back in the UK, we then moved to Hong Kong, where we lived for six years. The Asian adventure continued with our move here to Singapore in 2016.
2. Tell us about your family.
I'm married to Kerry, who I met in Kenya, and is a Junior School teacher here at DCSG and we have a son who is a student in Year 10..
3. What's your favourite weekend activity in Singapore?
I really enjoy getting out and about to explore the nature parks, nearby islands and the Singapore coastline, so boat trips, long walks, and bike rides are often on the weekend agenda. A round of golf, followed by a cold beer and a game of cards, also seems to have become a very welcome routine in recent months.
4. Did you always want to be an educator?
Not really. In fact, after graduating, I spent a couple of years 'exploring' a number of careers, including writer, promoter, sound engineer and rock star – all great fun and a source of many happy memories but ultimately, and very predictably, unsuccessful. I also took a four year break from teaching and set up and ran a business with my brother selling traditional games (chess, backgammon, Mah Jong, etc.). Again, great fun and I learned a lot – also, thankfully, this career choice was a successful one. My time in Kenya also gave me a love of wildlife, and I always think how great it would be to be a safari guide – that would be a dream job.
5. What is your favourite book, and who is your favourite author?
I don't really have a favourite book or author, although there are books I always go back to and have read more than once - classic comic-strip collections such as 'Peanuts' by Charles M Schulz and Bill Watterson's 'Calvin and Hobbes' have been reading companions for as long as I can remember. The Shardlake Series' by C.J. Sansom and Sebastian Faulks' 'Birdsong' are the kind of easy-reading historical novels that I also enjoy, and 'Where the Wild Things Are' by Maurice Sendak is a book I have very fond memories of, both as a child and as a parent. Recently though, and not very 'highbrow', I'm afraid, I have to say 'Nomad' by Alan Partridge is 'top notch' and the Viz Annual 2020 (which I do need to return to its owner – he knows who he is) is a classic.
6. Tell us about a hidden talent or a top-secret that no one would know about you.
Well, it's not really a secret, as I've alluded to it in an earlier answer, but I do play a range of instruments, including drums and guitar. Rather than being 'hidden', I'd say these talents would be better described as 'insufficient' – see my earlier reference to a failed career as a rock star.
7. Which five people would you invite to a dinner party, dead or alive?
This is a tough one as often the people with the most interesting lives may not be the best company. So, I'll just keep it simple:
Jamie Oliver – he can do the cooking
Dave Grohl – to provide entertainment
Sir Ranulph Fiennes – to tell some stories
Bill Hicks – to make us laugh
My younger brother, Alex – never a dull moment when he's around, and he always looks like he's in need of a good meal.
8. What was your biggest challenge so far overseeing the Upper Senior School, and how did you overcome it?
Making graduation happen for the 'Class of 2020'. The COVID-related restrictions and situation were constantly changing, and just when we thought we had a plan that could work… the goalposts were moved again.. and again. The work and commitment of the Events, Marketing, Communications, Catering and USS team was incredible, and the determination to create a special day for the students was seen in the fantastic farewell that we were able to provide. It's no different this year with the same challenges, frustrations and disappointments. But, once again, I'm inspired by the efforts of everyone working so hard to make this year's send off a special one.
9. Do you have a motto or saying that really resonates with you?
'Be brave and be kind'. Stick to this, and you won't go far wrong.
10. Do you have a most memorable teacher moment?
As a history teacher, many of my most memorable moments have come from bringing history to life and seeing students making real connections between their own lives and the past. Taking students to the First World War battlefields in Belgium and France often created unforgettable experiences such as students being the first members of their families to visit ancestors' graves or attending the Last Post Ceremony at the Menin Gate in Ypres. In recent years, the visit to The Killing Fields in Cambodia was another memorable and powerful experience. On a lighter note, as a memorable teacher moment, my goal from the halfway line in the 2014 West Island School Staff vs. Year 13 football match would be hard to beat. (Just ask Mr Cornes or Mr Walker).