International Baccalaureate (IB) Results 2023
International Baccalaureate (IB) Results 2023

Congratulations to the Class of '23 for an excellent set of provisional IB results. 118 eligible students completed the IB Diploma with a 100% pass rate. Despite the unique challenges experienced by this cohort, our students have persevered and demonstrated academic excellence and exceptional dedication.
The IB Diploma Programme (IBDP) is regarded by many as the gold standard of pre-tertiary education qualifications, and with the IB world returning to pre-pandemic academic assessment levels, an IBDP average of 36.8 is over 6 points above the world average of 30.2. In addition, 33% of students scored 40 points or more, 12 students were awarded the prestigious Bilingual Diploma, and two students achieved a perfect score of 45.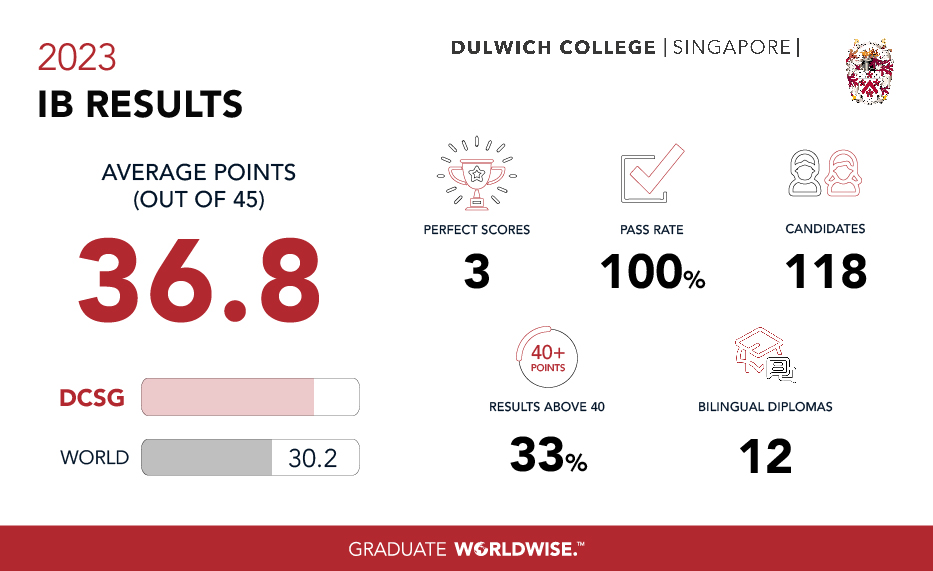 Nick Magnus, Head of College, praised the Class of '23, "These remarkable results are a testament to the hard work and resilience of our students and the dedication of our teachers. This year is our best ever in terms of University offers and matriculation, with our students graduating to some of the world's leading universities, including Oxbridge and Ivy League. Whether it be medicine, architecture or Fine Arts and theatre, our students will continue to pursue their personalised pathways. More importantly, these fine International Old Alleynians will now have the opportunity to pay forward their good fortune and privilege. As the leaders, peacemakers, change-makers and influencers of tomorrow, our students will embrace this responsibility, and we wish them well."
Congratulations to the graduating Class of 2023 for their excellent IB results and for embodying the spirit of resilience, determination and intellectual curiosity. The world awaits their contributions, and we can be confident that these students will leave an indelible impact as they embrace the challenges and opportunities that lie ahead!