Five Minutes of Fame with Mimi Munro
Whether it is open-water swimming or her childhood aspiration to be a chef, Mimi Munro, Head of Music Junior School, opened the doors to her colourful life and enlightened us with some of her hidden talents in this installment of Five Minutes of Fame.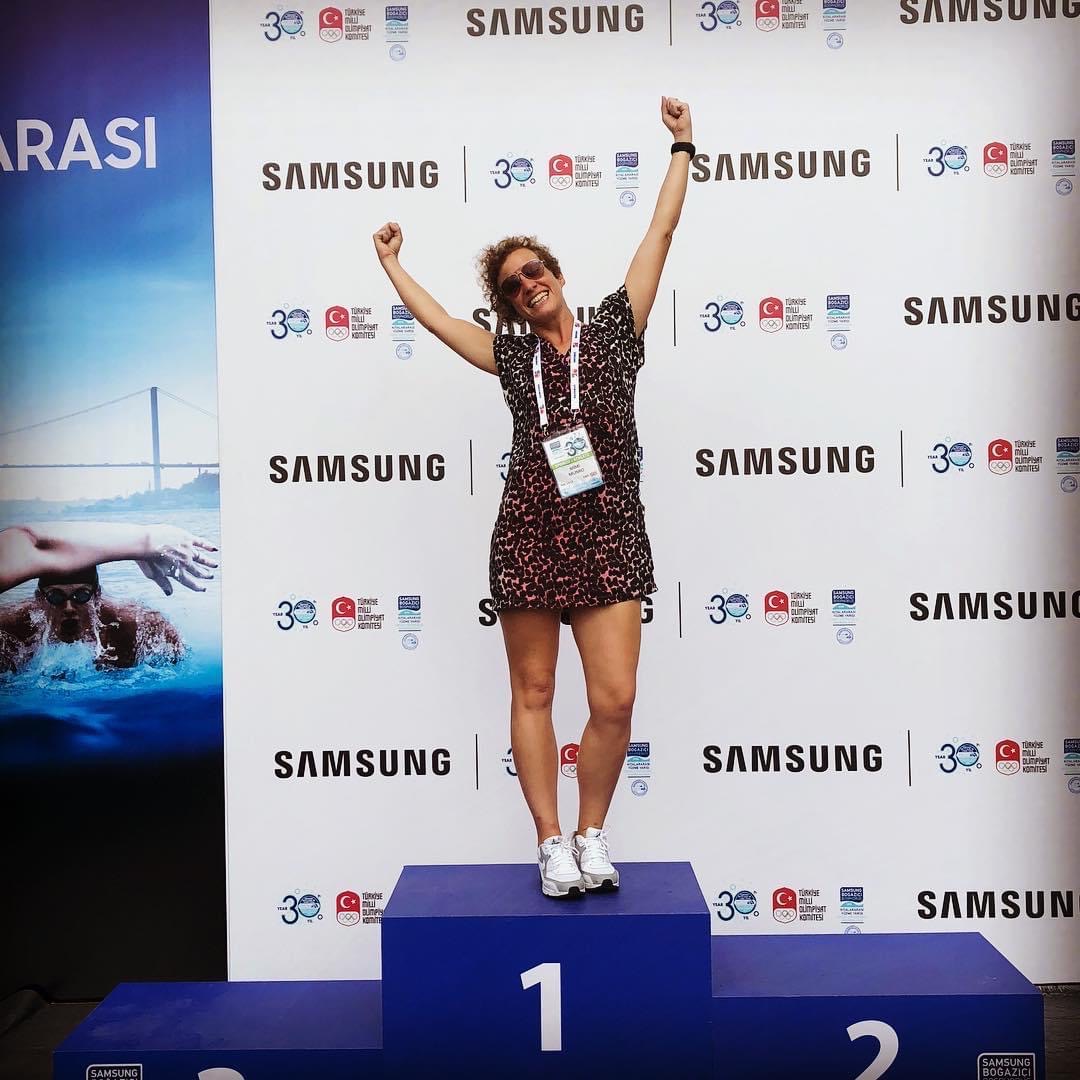 Where else in the world have you lived?
My first job as a qualified teacher was for the British Army in North West Germany. From there, I moved back to Manchester, where I went to music college and worked for Cheshire West and Chester Music Service. I moved to Singapore when Dulwich opened, and have been living here happily ever since!
Tell us about your family.
My husband, Frazer, has the most interesting job of anyone I know! He takes care of all the lighthouses around the coast of Scotland. Usually, he is at sea for a month and in Singapore for a month, which is amazing when the school holidays match his shore leave. At the moment, things are difficult because he's not allowed back into Singapore because of Circuit Breaker measures. We haven't seen each other since February! We are able to talk several times a day on the phone, at least.
What's your favourite weekend activity in Singapore?
My ideal weekend would look like this: early in the morning go to Sentosa and do some open-water swimming with my friends. We do a circuit of between 4 and 8 kilometres, depending on who's around. Then, I'd hop on the train to meet Frazer in Chinatown where we'd have foot reflexology and I'd sneak in some fabric shopping. After that, we'd maybe grab lunch in the Hawker Centre underneath People's Park, spicy Mala hotpot is a big favourite. Then it would be home for some light needlework and possibly a walk in Jurong Lake Gardens and some homemade BBQ pulled pork for tea.
Did you always want to a teacher?
I was DESPERATE to be a chef when I was about fifteen. My Dad organised me work experience in a hotel kitchen. I was put to work peeling cantaloupe melons with a viciously sharp knife and within two minutes I'd cut myself so badly, I had to wear bandages and two surgical gloves for the rest of the day. I still have the scar!
What is your favourite book and who is your favourite author?
My top book is one I read very recently, A Boy in the Water by Tom Gregory. It's a true story about a boy of eleven who swims the channel. It takes place during the time I was a kid, so I can really identify with all of the cultural references (Walkmans and tinned beans and sausages). It's such an inspiring story, and I even shed a tear at the end. I must confess, I don't have a favourite author – I chop and change all the time! If I were to choose a genre though, I love a good crime or spy thriller. If it says "page turner" on the blurb at the back, I'd probably buy it!
Tell us about a hidden talent or a top secret that no-one would know about you.
My Year 4s know about my hidden talent: I love dressmaking. I often give them a twirl if I've made something new at the weekend. Not everything I make gets seen – I've sewn some proper monstrosities! I also love open-water swimming and have swum the length of Lake Windermere in the UK. I was supposed to be swimming the length of Loch Lomond this summer, but for obvious reasons that's cancelled. The water will still be in the lake next year! My secret skill that not many people know about? I am a qualified kettlebell coach. With the gyms and pools being closed, I've been swinging kettlebells around on my balcony to keep strong, ready for when the pools open back up!
Which five people would you invite to a dinner party, dead or alive?
Christian Dior – I went to see his exhibition at the Victoria and Albert Museum in London. He was a fashion visionary, and his clothes were absolutely stunning inside and out. I'd hope he might bring the hostess a 1950s evening gown as a gift. Sue Perkins of Great British Bake Off fame. She won a conducting reality show a few years ago and loves music. She's also hilarious. Guy Garvey from Elbow would help choose the playlist. His show on BBC Radio 6 is amazing. Captain Webb would be there, for some cross-English Channel swimming banter. And my Mum. I think she'd have a great time (and she'd provide the homegrown veggies from her allotment).
What does a typical day at the College look like for you?
Mornings start with swimming training, followed by possibly two cups of tea whilst I check through emails and look at what needs organising for the day's rehearsals and lessons. My teaching goes across all year groups, so I can be singing one minute, to teaching GarageBand on the iPad the next, so there's never a dull moment! On a busy day, there will be lunchtime rehearsals or possibly a live event to work on. After school, you will find me with one of the string ensembles, or maybe in meetings or perhaps writing music for one or other of my classes. The Junior School is a really exciting place to work so I'm happy to say there is never a typical week!
Do you have a motto or saying that really resonates with you?
"Look well into thyself; there is a source of strength which will always spring up if thou wilt always look." – Marcus Aurelius
I'm a fan of the Stoics, and Marcus Aurelius in particular. At difficult times, I find his wisdom and balance a very calming influence.
Do you have a most memorable teacher moment?
I loved the very first Deepavali show we did for Year 6. The Bangra dance flashmob opening up the show and our guest dancer, Inderphal Singh, was a real buzz. I enjoy working together with children and colleagues to put on a show, but that one was special as it was the first one we'd ever done. I even had a sari put on me by our Assistant Teachers backstage – that was very stressful (for them, as I wouldn't keep still!).