Chris Saviddes is Head of Senior School Maths and has been at the College for 5 years. Here, he tells us about his secret talent as a musician, his joy for long runs and passion to help students embrace mathematics!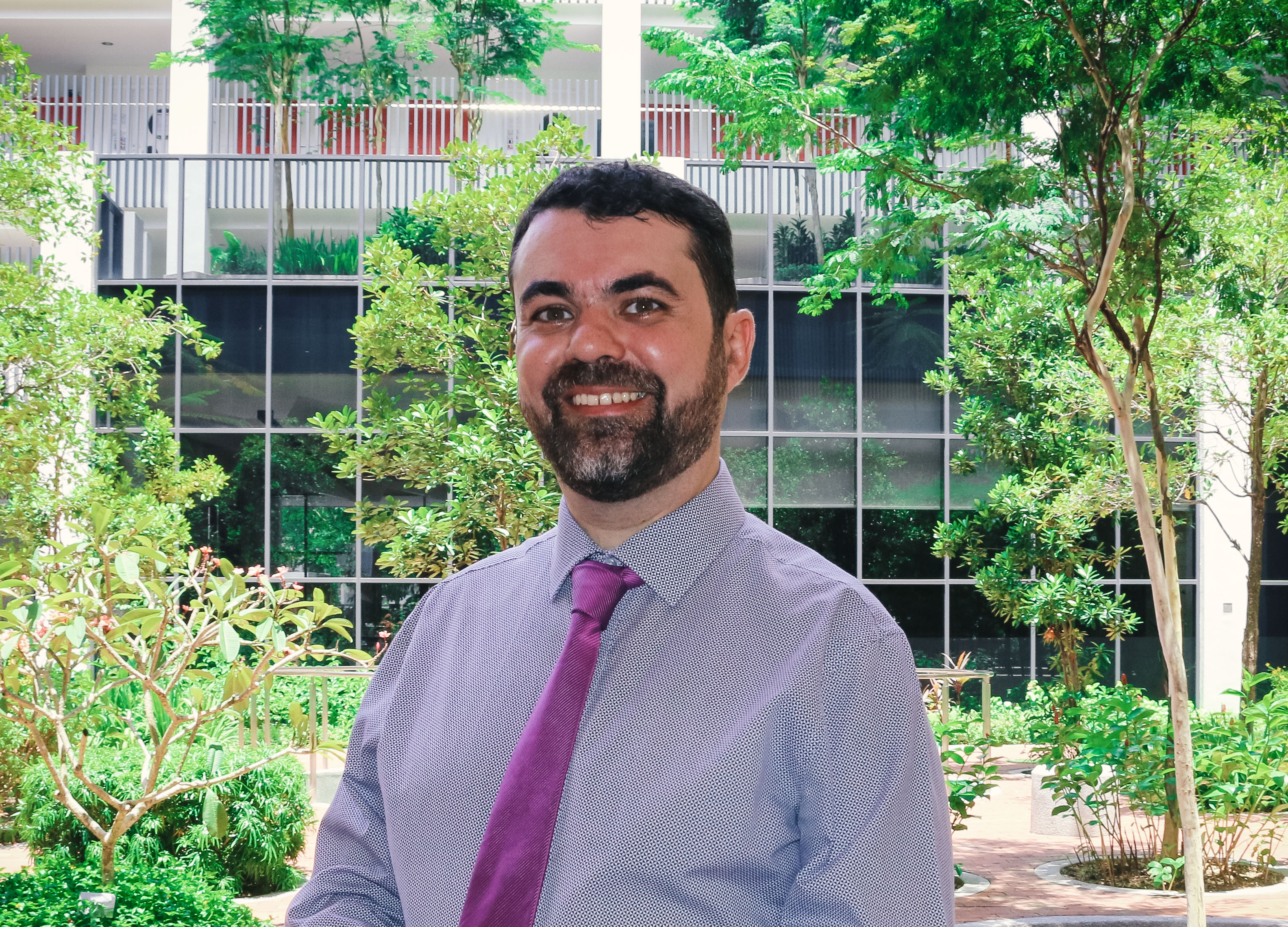 Where else in the world have you lived?
Singapore is my first international role and I have now been here for nearly five years. Prior to that, I lived and worked in North West London. I worked at Dr. Challoner's school in Amersham for 10 years. I took on a variety of roles there, including Assistant Head of Maths, AEN coordinator and also ran the new teacher programme.
Tell us about your family.
I have an older sister, a younger brother and four nephews all of whom live in the UK. My fiancé Rosie lives with me in Singapore and she works in PR and communications. My dad is a Greek Cypriot (I still dream of sun-baked holidays in Cyprus!) and my Mum comes from Stirling in Scotland.
What's your favourite weekend activity in Singapore?
I love doing long runs around Singapore at the weekend and it's been a great way to explore the island. The only problem with running in Singapore is that it is always so hot and I end up looking very red and sweaty, so apologies if I have ever seen you and run past you without stopping for a chat – I am doing you a favour though!
I love weekends in Singapore as there is so much to do here. The restaurants, entertainment and cultural offerings are outstanding and so varied. Every weekend is different and a lot of fun!
Did you always want to be a teacher?
When I was at university I was split between becoming a teacher or a composer for Film and Television. I love writing music, particularly when paired with technology. When I trained as a teacher, I realised the role was so much more than I thought it was going to be. The days are rich and varied and I have certainly no regrets about my career path. Additionally, I still occasionally write music and look back at old compositions; it is a hobby I really enjoy!
What is your favourite book and who is your favourite author?
I am a huge fan of audiobooks. Being read to allows you to get on with other things at the same time, and I also believe it improves listening skills over time. I read a lot of non-fiction, and I'm particularly fond of Ekhart Tolle's The Power of Now as it portrays such a simple message about appreciating and living in the moment. The audiobook is read by Elkhart himself. There is nothing better than hearing a book read by the author, hearing the words delivered by the person who wrote them!
Tell us about a hidden talent or a top secret that no-one would know about you.
I am a grade 8 pianist and although I no longer practice as much as I should, I still enjoy playing music, whether it be a famous composer or sometimes some of my own. I am very grateful to Ian Lim in Year 13 who helped me get over a fear of playing in public when he encouraged me to play with a band for a charity concert at the College last year.
Also, I'm not sure it is so much of a secret any more but at Dr. Challoner's, I led a successful record attempt involving 137 students all solving Rubik's Cubes at the same time! It attracted quite a bit of media attention and I'm particularly proud of what we achieved. It was never about creating Rubik's Cube enthusiasts, but rather to give students a substantial challenge to overcome together. The best thing about it is that I didn't have to teach a single student how to solve the cube, they taught each other!
What does a typical day at the College look like for you?
The Maths team are a spectacular bunch and deliver superb opportunities for our students. In my opinion, this makes my role a whole lot easier as I have every faith in my team and I have the privilege of supporting them.
Some people would assume my job is heavily admin based, and although there is an aspect of that, it is way more than that, helping students and staff to embrace mathematics and to enjoy and persevere with the challenges that mathematics delivers. I do what I can to ensure mathematics remains a strength of the school.
There is always a real buzz around the maths area and I'm very proud of that!
Do you have a motto or saying that really resonates with you?
I like the Albert Einstein quote – "It's not that I'm so smart, it's just that I stay with problems longer". It really encapsulates a relationship with mathematics that we try and instil early in the students' journey in Senior School (and I know Junior School and DUCKS place great emphasis on that relationship too!). Our aim for all students is for them to realise that they 'can do mathematics' and help them to build the resilience needed to engage with problems, sometimes for an extended period of time. It also encapsulates a broader aim of not giving up when things become hard in life (which they will, and do!).
Do you have a most memorable teacher moment?
When I was Head of Year 7 at the College, the whole year group took part in an ambitious challenge of running the equivalent distance of the perimeter of Singapore in a day, by running loops of the school field.
We were raising money for Sunbeam Place, which is a home for vulnerable children in Singapore. In the process, we learnt a lot about the charity, and were fortunate to have representatives from the charity visit us and tell the students what they did.
I was a little worried about how we would do, but as usual, our students surpassed all expectations, running a total of eight loops of Singapore! I am still in awe of what the students managed to achieve!