Christopher Babbage is the Director of ICT Systems and Infrastructure here at Dulwich College (Singapore) and joined the College at the start of this academic year. Here, he shares more about growing up in Singapore, his secret skateboarding talent and where you might find him on the weekend.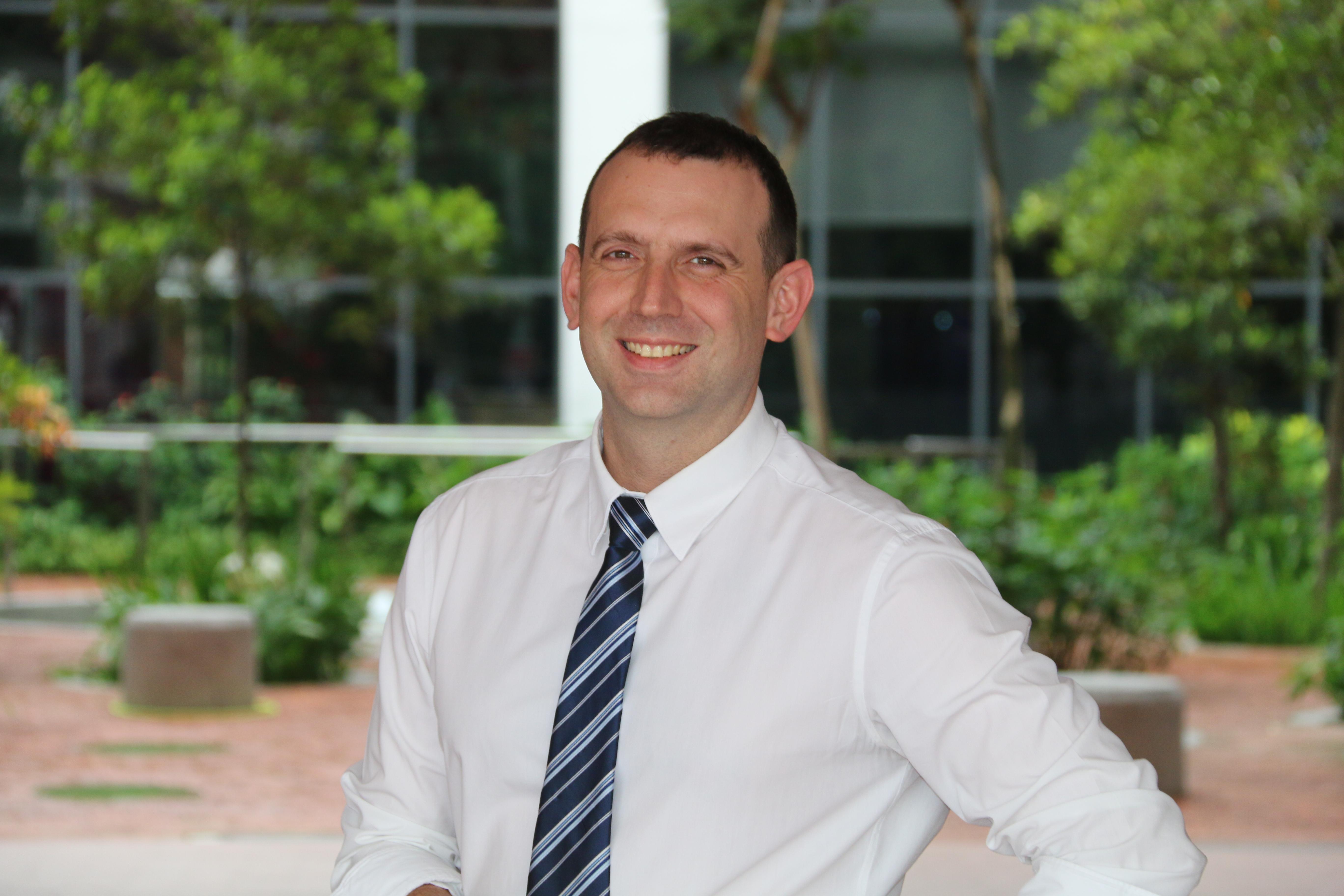 Where else in the world have you lived?
I was born in the UK but only lived there a few years before moving to Canada. My dad was on a teacher's exchange in Toronto for a year before taking up a post at Tanglin Trust School in Singapore. I remember arriving in 1986 and taking a bus for 25 cents to Holland Village to buy school uniforms for myself and my brother. We both attended Tanglin Trust School and then went onto UWC for IB. After graduating, my family emigrated to Perth, Australia where I spent the next 18 years working and studying.
Tell us about your family.
I met my wife Melissa in 1997 as a teenager in Singapore. My son Liam who is seven and a half likes to get up at 5.00am every day to play Beyblade battles on the tiled floor (spinning tops). Our neighbours must certainly love us! We have three cats, one of whom is a tiny, senile 23-year-old and most definitely the boss of the house.
What's your favourite weekend activity in Singapore?
We often get up early and go to the Singapore Zoo for a Saturday morning walk. Sunday buffets are another weekend favourite, especially those with seafood!
Did you always want to work in IT?
In 1995 I worked as a casual technician in a computer shop in Bukit Timah Plaza. Ever since then I have enjoyed fixing things and playing with gadgets. As far as I can remember, I have always wanted to work in IT.
What is your favourite book and who is your favourite author?
I enjoy reading non-fiction crime stories as well as novels by Stephen King. As well as reading, I may also have a slight Netflix addiction. Five seasons of Peaky Blinders in one weekend - now that has to be a record!
Tell us about a hidden talent or a top secret that no-one would know about you.
I still have a skateboard and have been caught by my wife practising in the garage at night. My son is more into his scooter, and we will often go to the park together to scooter and skateboard.
Which five people would you invite to a dinner party, dead or alive?
John Candy, Martin Short, Chevy Chase, Steve Martin, and Ricky Gervais. I can only imagine how crazy a dinner party with these comedians would be.
What does a typical day at the College look like for you?
In the morning, it is all about bringing the teams together for a quick discussion about what is happening during the day and for the rest of the week. A typical day will always bring a new challenge, problem or opportunity to improve on our systems and infrastructure. In my initial three months, a lot of planning for Bring Your Own Device (BYOD) has occurred along with a schedule for upgrading WiFi, classroom technology, devices and connectivity.
Do you have a motto or saying that really resonates with you?
If you say you are going to do something, do it. This rings so true with technology and delivering support within schools.