Junior School Teacher Librarian, Sarah Mounsey discusses today's digital information landscape and how educational leaders must raise the bar to facilitate change and nurture the needs of 21st century students.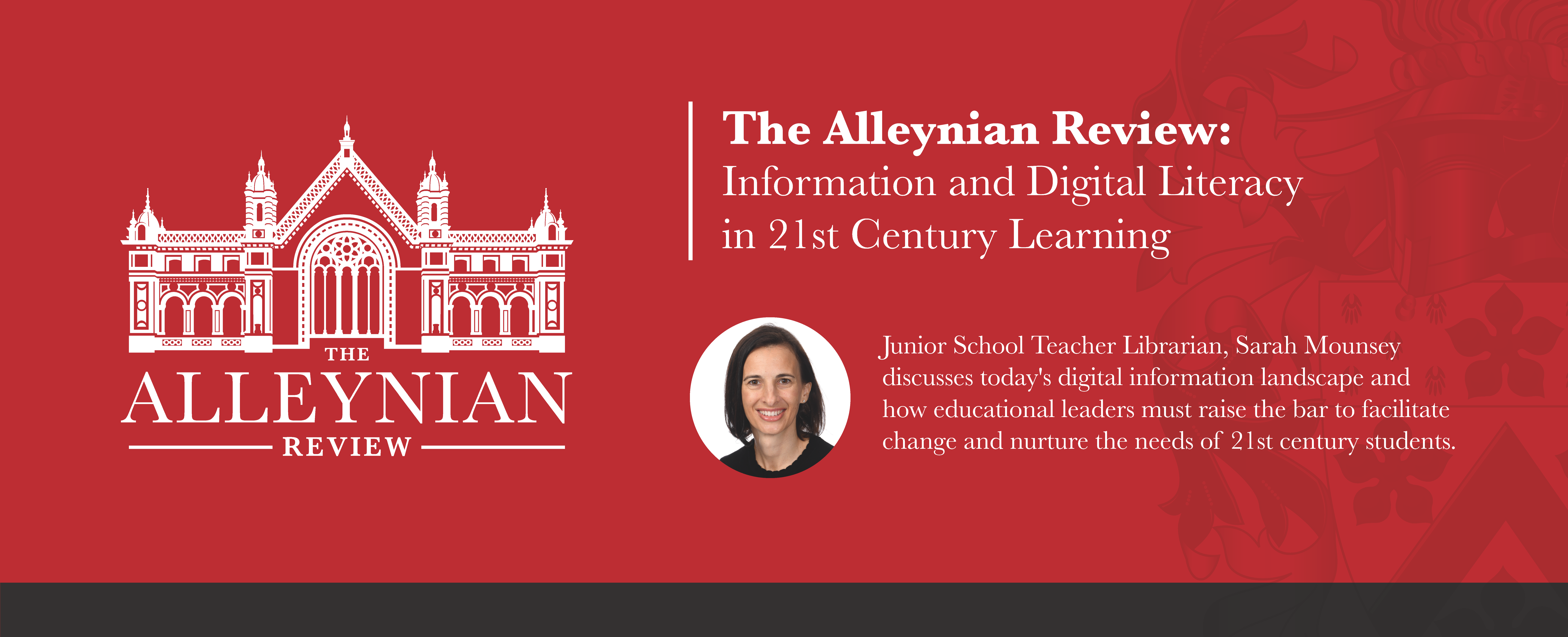 The current education system, conceived in the 18th century, is based on industrialisation and can be compared to how factories are run. In many schools, bells are rung, students walk in lines and subjects are taught in isolation. Many governments, leaders and educators have questioned this, and as a result, educational reform has been widespread in recent times. The term '21st century learning' is used frequently, with an emphasis on moving away from heavy curriculum instruction and instead providing opportunities for innovation, critical thinking and collaboration. There is now an emphasis on teaching information and digital literacy and using technology in meaningful ways. The priority of all schools should be to provide students with opportunities for educational success and to graduate with skills that will help in their workplaces of the future.
We entered the 21st century almost two decades ago, so the term '21st century learning' is not a new one, however, it is broadly used to cover innovative ways of education delivery. It is agreed by educators globally how important education reform is, and that it needs to address and embrace rapid technical change and access to the abundance of online information.
There is no single agreed definition for what 21st century learning is, but all literature includes moving away from heavy curriculum instruction and enabling students to use the four C's, which are collaboration, communication, creativity and critical thinking. Other academics in this area also included the skill of problem solving in this model. In contrast, Martinez and McGrath see it as deeper learning, the "capacity for learning how to learn" and also emphasise the importance of self-direction and personalised learning. Despite these differences, it is widely agreed that the education experience needs to move away from heavy instruction and memorising information to a more robust experience where students are engaged in deep learning experiences that are not necessarily subject specific.
The new information landscape has widespread implications for teaching and learning. Information is now accessible at the click of a button and it can be argued that it is not so important to teach students to memorise information, but to educate them to become information and digitally literate. There is a misconception that in this technological age where many toddlers know how to navigate an iPad screen, that children are growing up as digitally literate. As Martin and Roberts argue, being a 'digital native', someone who has grown up with technology, does not equal to being digitally literate.
In 2014, The American Association of School Libraries reported that finding information online for academic purposes is overwhelming to most students and that digital technology makes it harder for them to find a range of credible sources. The Australian School Library Association (ASLA) report, Future Learning and School Libraries, refers to the challenge of dealing with information overload and describes how students must be taught to be more sceptical when approaching content. In addition, there are many examples of research that has been undertaken to see how well students are evaluating information online.
One such example was by the Stanford History Education Group in 2016, and the results showed that students were unable to reason about information on the Internet; for example, they were unable to distinguish between an advertisement and a news story, or to realise that many articles present only one side of an issue. Students need to be taught the skills to be able to access information that is credible, reliable and accurate and be able to make informed judgements on content that includes bias or fake news.
It is the role of teachers and teacher-librarians to work with educators and students to ensure they know how to locate, judge and organise online information. They need to ensure that the new generation of 'digital natives' are taught to be discerning and skilled at accessing and using information. As part of ensuring students are information literate, it is suggested that an Information Literacy framework is embedded into teaching and learning.
An Information Literacy framework should be skills-based, sequential and involve deeper learning and 21st century learning skills. It should include achievable and measurable outcomes for each year group, which can be evaluated on an ongoing basis. Many of these skills can begin to be taught to even the youngest of students. One example is the Big 6/Super 3 Information Literacy model, developed by Eisenburg and Berkowitz. This and many other frameworks include teaching students to:
define the question they want to answer

research information and then locate the appropriate print and digital sources

build reading skills and the ability to skim and scan texts

make judgements on credible and reliable sources

use school databases, as well as search engines, to locate and interpret information

be ethical with the use of information including understanding plagiarism, referencing sources and understanding copyright and creative commons licences.
This is why schools need future-focused libraries and qualified teacher-librarians to work in partnership with educators to develop these programs. Libraries have always been an information source and this has not changed, but they have significantly evolved to meet 21st century learning needs. They are not just about having a well-used and well-resourced collection, but they should also be the physical and virtual learning hub of the entire school, that can be accessed 24/7. The teacher-librarian is not just the keeper of books, but someone who works with teachers to promote inquiry-based pedagogy, enable digital citizenship and promote 24/7 access to information.
Despite this, there is a libraries crisis in many parts of the developed world and significantly, in the UK. Community libraries are closing, many schools do not even have libraries, and very few schools have teacher-librarians. Standardised testing and other resources can compete for funding. Fortunately, in many parts of the world, the importance of 21st century libraries and the role of the teacher-librarian is recognised as vital. It is understood that having libraries with qualified teacher-librarians in schools can have a direct correlation with student success. The library can also be a base for technology specialists in the school to support worthwhile integration of technology.
Technology brings enormous benefits, but it can also bring huge challenges to schools if students are not explicitly taught the skills to use these tools. Challenges include resistance from parents and teachers who have concerns about screen time and Bring Your Own Device Programs (BYOD). There is also the issue that some teachers have not been provided with mentoring and training to keep up with rapid technological change. Ongoing professional development and mentoring of staff is an important part of ensuring that the increase in use of digital technologies is measured, effective and supports 21st century teaching and learning.
Jonathan Rochelle from Google stated that "technology can't transform education on its own," and discussed how it is up to educators to make sure students are given the skills to use technology effectively. Therefore, appropriate technology must be embedded into learning programs, while teachers need to ensure that digital technologies "enhance not automate learning". Scardamalia et al. (2013) in ASLA argues that "to enable 21st century learners to cross boundaries, educators need to provide knowledge building environments. The Horizon Education report has predicted the widespread use of technologies such as 3D printing, game development, digital badges and wearable technology as well as an increased move to personalised learning.
Most schools have increased the use and application of digital technologies, however, many have not done it in meaningful ways, where the technology could merely be replacing a book or a simple activity sheet. The challenge is to ensure the technology enhances education.
One such example is by using Bloom's Taxonomy. Bloom's Taxonomy is a hierarchal ordering of cognitive skills that can help students learn. The six skills include: to remember, to understand, to apply, to analyse, to evaluate and to create. Digital tools can be vehicles to support cognitive learning; for example, to demonstrate understanding, instead of assigning a set of comprehension questions, students could use mind mapping software. Or, when evaluating or synthesising information, students could be encouraged to write a blog post, create a podcast or use iMovie. In addition, Blooms can be used to create 'google-proof questions' so that teachers avoid setting tasks where students can google an answer, and cut and paste it.
In addition to information and digital literacy being embraced in the curriculum, physical learning spaces need to be flexible and provide opportunities for students to collaborate, problem-solve and create. To embrace elements of 21st century learning, many schools have moved away from traditional classrooms and libraries, and have developed learning areas that promote 21st century skills and focus on STEAM (Science, Technology, Maths and Engineering). Innovation areas include maker spaces with digital and tactile resources and green screens. The idea behind these innovation areas is to transform the idea of a school away from being just an information source where content is consumed, to a place where content is created.
These innovation areas and flexible learning spaces also promote the concept of transdisciplinary approaches to curriculum delivery. For some time, primary schools in many parts of the world have been delivering a curriculum that is theme-based and integrates subjects, and now some secondary schools are following suit. STEAM is taking centre stage and some schools are moving away from timetables that isolate subjects. Collaboration with curriculum leaders provides opportunities for innovation, creation and authentic and personalised learning.
Change is a constant in education, perhaps in the 21st century more than any other period in history. Our workforce is constantly evolving and the primary role of education is to prepare students for a future in which they are digitally and information literate. Therefore, it is paramount that leaders within schools act as change agents, and facilitate change in ways that support student learning. Their role is also to educate parents as to the importance of why education now looks very different to how they experienced it. Transformational educators motivate students and create a culture of innovation, collaboration, problem-solving and risk-taking. Arguably, it is these skills that will be most important for students to take beyond the walls of the schoolyard.
Thank you to Sarah Mounsey, Junior School Teacher Librarian, for contributing this thought-provoking piece to The Alleynian Review.
References
Alliance for Excellent Education. (2018, June). Future-ready librarians. Retrieved June 5, 2019, from https://futureready.org/program-overview/librarians/

Australian School Library Association (ASLA). (2013). Future Learning and school libraries. Retrieved from https://asla.org.au/resources/Documents/Website%20Documents/Resources/2013-ASLA-futures-paper.pdf

American Association of School Libraries (2014) Schools librarians transform learning http://www.ala.org/aasl/sites/ala.org.aasl/files/content/advocacy/tools/docs/AASL_Infographic_FINAL.pdf

Common Sense Education. (2016, July 12). What is Bloom's Digital Taxonomy? [Video file]. Retrieved from https://www.youtube.com/watch?v=fqgTBwElPzU

Eisenburg, M. B., & Berkowitz, R. E. (2003). The definitive Big6 workshop handbook (3rd ed.). Worthington, OH: Linworth Publishing.

IFLA trend report 2018 update (International Federation of Library Associations and Institutions (IFLA), Comp.). (2018). Retrieved from https://trends.ifla.org/update-2018

Johnson, L., Adams Becker, S., Estrada, V., and Freeman, A. (2015). NMC Horizon Report: 2015 K-12 Edition. Austin, Texas: The New Media Consortium. Retrieved from http://www.nmc.org/pdf/2015-Horizon-%20Report-K12.pdf

Loose, J. (n.d.). Bloom's Revised Technology [Blog post]. Retrieved from http://morethanenglish.edublogs.org/for-teachers/blooms-revised-taxonomy/

Martin, A. M., & Roberts, K. R. (2015, January/February). Digital natives ≠ digital literacy. Principal, 18-21. Retrieved from http://www.ala.org/aasl/sites/ala.org.aasl/files/content/aaslissues/MartinRoberts_JF15.pdf

Martinez, M. R., & McGrath, D. (2014). Deeper learning: How eight innovative public schools are transforming education in the twenty-first century. New York, United States: The New Press.

McNee, D. &Radmer, E. (2017). Librarians and learning: The impact of collaboration. English Leadership Quarterly, 40(1), 6-9. Retrieved from http://www2.ncte.org/resources/journals/english-leadership-quarterly/

Robinson, K. [RSA Animate]. (2010, October 14). Changing education paradigms [Video file]. Retrieved from https://www.youtube.com/watch?v=zDZFcDGpL4U

Softlink, (2015) Australian School Library Survey, Softlink, retrieved from https://www.softlinkint.com/assets/img/banners/2015_Softlink_ANZ_School_Library_Survey_Report.pdf

Sowash, J. R. (2009, November 6). Google-proof questioning: a new use for Bloom's Taxonomy [Blog post]. Retrieved from http://electriceducator.blogspot.com/2009/11/google-proof-questioning-new-use-for.html

Stanford History Education Group. (2016, November). Evaluating information: the cornerstone of civic online reasoning.

Weller, C. (2016, August 11). Google's top education expert predicts what schools will look like in 50 years. Business Insider Australia. Retrieved from http://www.businessinsider.com.au/google-education-expert-predicts-future-of-schools-2016-8

Wolf, M., Jones, R., & Gilbert, D. (2014). Leading in and beyond the library. Retrieved from Alliance for Education website: http://all4ed.org/wp-content/uploads/2014/01/BeyondTheLibrary.pdf